About Us
For the last 15 years we have really enjoyed sharing our
vast experience and success leading, building and even dismantling Sales teams in B2B sales within SME businesses
to Global organisations.
Win more customers
Improved sales techniques and process will give you more customers
Keep more customers
Improved account management techniques and process will keep more customers
Improve your profits
Focusing on the right things to and done it the right way, will improve your profitability
We are dedicated to helping companies grow by improving their sales performance through group or one to one or group training and mentoring packages. 
With over 40 years experience, we truly understand the sales process from prospect to sales and can help you to improve your process and results. 
If you compare sales to running a factory; you know exactly what raw materials you need for your factory (prospects), you would research and buy specific machines (sales tools) and train people to use them (sales techniques). At the end of the production line you are presented with the finished goods, which are all identical and come at a certain rate per hour (sales figures). If this factory had faulty products coming off the line it would be imperative to stop the line, identify the problem and fix it. If the result of your sales process is not up to standard, we need to locate the problem and develop a plan to fix it.
The way we achieve success, is by reviewing your business plan and goals, then translate them to your specific business to develop your strategic sales vision and the plan to deliver the changes we agree that will work for your company.
The major difference with JV Consultancy is that we will not only suggest what you can change but we actively help you make the changes to improve your profitability.
It was April 2020; I needed a plan to drive sales through the lockdown period and have a plan that was working for the new future.
I was looking to sense-check and improve a 'new client and marketing strategy plan' for my business and so I called JV Consultancy Group. We go back many years and I was very keen to share the framework for Jonathan Viney to review and help me develop. Jonathan has a calm, considered and intelligent approach, and helped improve both the style, content and deliverables, helping the all-important ROI, as well as why, what and how. Jonathan has a great style about him, has many different ideas and great experiences to draw upon and is supportive & challenging at the right times and in the right measures. Our plan is much better as a result of working with JV. Thanks John.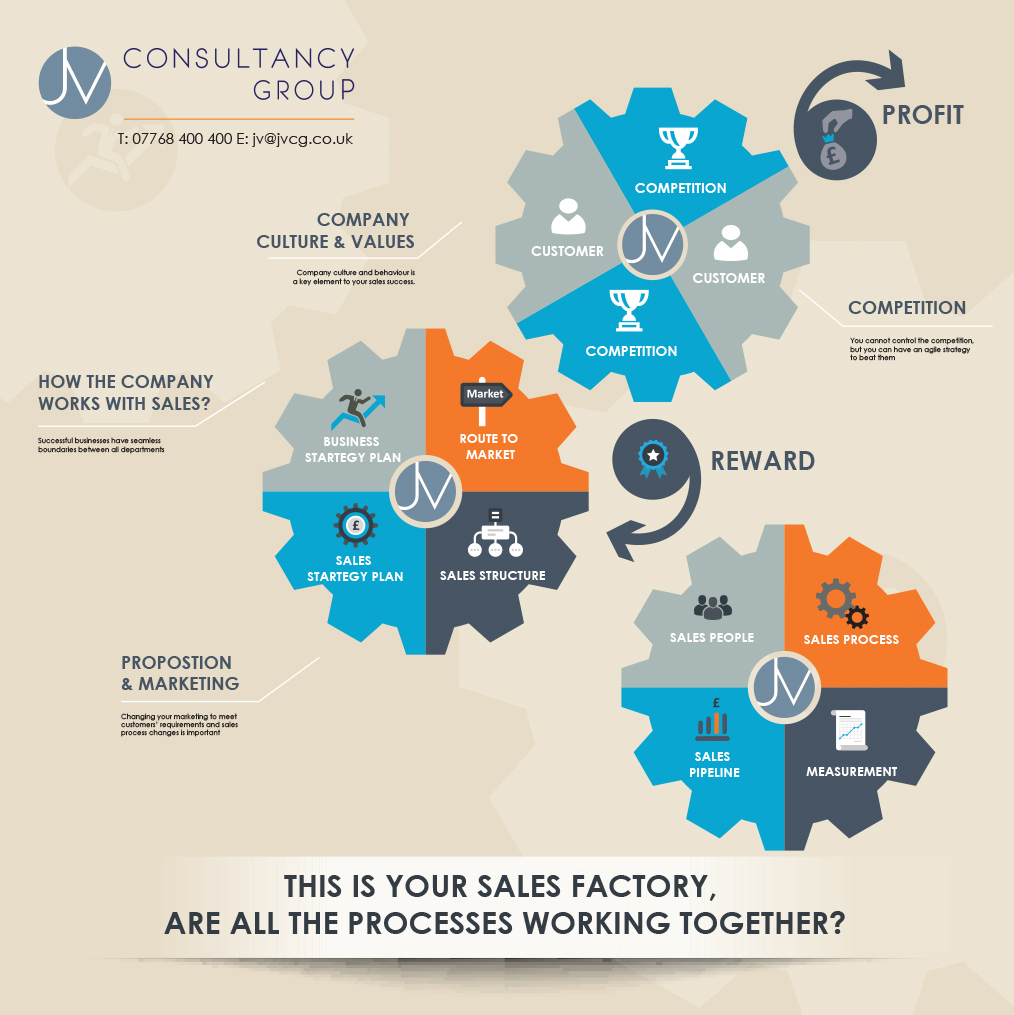 Helping companies be more profitable through improving sales
From SME's to international companies in the UK, Middle East and Europe 
Jonathan's experience of sales management and strategy stretches over 35 years, across a very wide variety of industries. During his many roles in as Sales Manager/Director he has set up, as well taken over poor performing teams and turn them in to highly productive units. During his 15 years at Vodafone, he was credited as one of the key Executives who merged 5 companies and their disparate sales teams, which in 6 months developed a leading position with 74% market share. He was also responsible for setting up and running Vodafone UK first International sales team responsible for over £300 million of turnover.
Since 2004 Jonathan has set up and run a very successful consultancy which specializes in improving the sales performance of companies in the UK and Middle East. Jonathan's unique approach has been not only to identify the potential opportunities and develop a sales strategy to achieve the companies' goal, but also has the capability to implement the changes for the company. In one instance this resulted in a 256% increase in sales over a 6-month period. During this time, joined one of his customers for 5 years and took the turnover from £75 Million to £120 Million.
The unique breadth of experience involving engagements with VC's has led to Jonathan be asked to present interesting and motivating seminars for several industry bodies including the IoD. This has also taken Jonathan in to becoming a mentor for the Set Squared Partnership, which is run by Bristol, Bath, Surrey and Southampton Universities for startup technology companies
Contact Us
If you would like to improve your sales and therefore increase your profits, call or email us for an initial chat. It won't cost you anything, but could make you a lot of money.